Does this sound like you?
You wait months for your website to be completed.
You can't move forward with your business, because your new website is still not ready.
Didn't she ask for feedback a while ago when I was snowed under with...
Now your developer's gone on holiday, or is concentrating on a project for another customer. So now you're ready but she isn't.
You don't feel valued. You feel that you're just one of many clients that your developer is working with.
She's distracted, and multi-tasking. Never a good combination. You feel frustrated.
Be delighted with a VIP Intensive Package
A package tailored to your needs allowing you time to prepare, with email support and resources, culminating in a dedicated day where you can be as involved as you like and are available to give feedback and approval.
Wouldn't you rather...
feel involved and in control of your project?
take delight in watching it all come together?
be sure that I'll take your feedback into account as we go?
know that we're working together, and if you don't like something, we can change it?
be reassured that I'll be giving you my undivided attention
prepare for the final day in your own time, with email support
have support available afterwards, you know, just in case.
No distractions.
No multi-tasking.
No other clients.
1. Book a day in a few weeks' time
Use the calendar below to schedule a day a few weeks in advance. Pick a day when you'll be around, not when you have lots of meetings or client work.
I'll send you a workbook and give you access to your Website Preparation Guide, which you'll need in Step 2.
2. Prepare for your new project
Fill in the workbook and use the Website Preparation Guide to take you step-by-step through getting together everything we'll need for your website eg the copy, what you want it to do, the images you want me to use.
I don't want you to feel overwhelmed, so you can ask for help by email.
3. Start it off with a kick-off call
One of the tasks in the workbook is to schedule your kick-off call. It's best if it's 6 days before, and you've completed your preparation.
Then we can have a chat and make sure we can get the best out of our time together.
4. The final day itself
We'll have listed out what you want to achieve in our kick-off call. But the day is as unique as you are. There are no set deliverables - apart from my time for that final day. If you want to change things on the day, we can.
5. Support
There can be a lot to take in on that final day. I get that. That's why I offer four weeks of email support after our day together.
6. After the day
Haven't quite finished? You'd like to add more? We can always schedule any remaining tasks for another intensive package.
What can I generally do for you?
Website to help achieve business goals
Create a website for you with a call-to-action that helps you achieve your business goals, a reviews page and section on the home page and the required legal pages. (1 package)
Website with 6 - 7 pages
Website as before to help achieve your business goals, with 6 - 7 content pages
(2 packages)
Refresh of existing website
Give me your list of changes  you want and I'll work my way through them.
(1 package )
Data Manipulation and Import
Do you have some data - for example, products, a list of events - that you need to get in to your website? Someone's given you a spreadsheet and said, "there you go", but you're left thinking: now what? Well, let me handle it for you.
(1 package)
Data Reporting
Do you have some data on your website that you have to go digging for to put all together? Wouldn't it be better if it was all collated for you into a custom report that you can access at will? I can do that for you.
(1 package)
Setting up automations
You know that your life can be made easier and some of the admin work you have to do can be made easier or eliminated by automating some of your booking or appointments processes, but you're terrified of tech. Doesn't scare me. Get it done.
(1 package)
During the final day of a VIP Intensive Package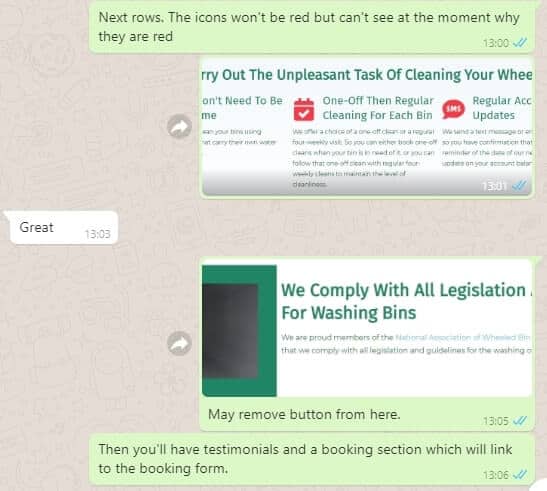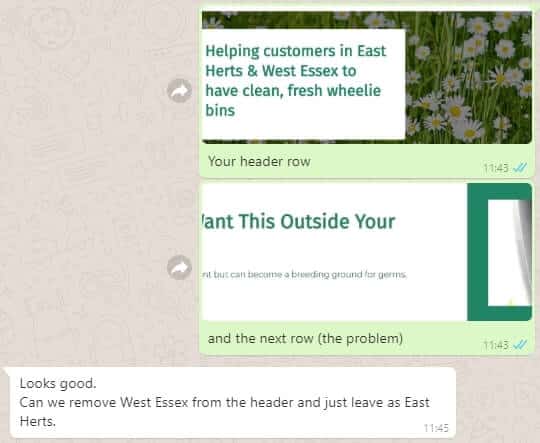 Ready to get started? How it works.
Book your VIP Intensive Package
VIP Intensive Package: £880 - 8 hours dedicated to your project on the final day
Plus:
access to a workbook and your Website Preparation Guide
support by email
45 minute kick-off call to ensure we get the most out of your day
28 days support after the day.
How likely are you to refer a friend or colleague to my VIP Intensive Packages?

In a few sentences, please tell me what you thought about the overall experience.
It was great to have a specific date to focus on the development work and a deadline for when information was required to work to.
Please share any other comments, questions or feedback you have about your VIP Intensive Package experience.
It was really useful to have an kick-off call to get the team together to discuss the business requirements and put together a specification to meet those needs. We came away from the meeting with a clear vision and well defined objectives of what we wanted to achieve, an idea of the information that was required for the next stage of the process and a date to work to.
It is useful to have one platform for communication.
What would you say to someone who is considering purchasing from me?
Anita is hardworking, professional and tenacious.
Working with Anita has been very straightforward.
She established precisely what our requirements were ensuring no misunderstandings or confused expectations.
The preparation completed as part of the VIP Intensive Package ensured no wasted time on the day.
I'd be happy to recommend Anita's services to others.