To use Tech Club, all you need to do is go to:
http://plainsailingweb.com/tech-club.
Logging in
In the "Already a member?" section there is a link "click here to log in". Do so using your email address or username. Don't worry if you've forgotten the password you created when you signed up. You can just use the forgotten password feature on the login page.
Once you have logged in you will be taken back to the Tech Club page and shown the member content: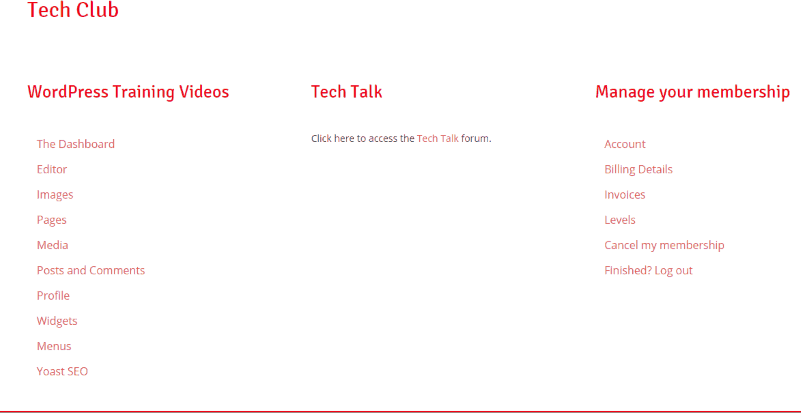 As long as you are logged in, you can always return to the Tech Club page by clicking on "Tech Club" in the menu at the top.
WordPress Training Videos
Training Video Categories
The training videos are listed by category – so for example if you know you want to do something with images, click the Images link. These are the others:
The Dashboard
Editor
Images
Pages
Media
Posts and Comments
Profile
Widgets
Menus
Yoast SEO
Tech Talk forum
Access the Tech Talk forum to ask any questions about your website that you're not sure about. You'll receive an answer and other members will be able to see and benefit from the answer.
Manage your membership
You can manage your membership of Tech Club from here. Here's a list of what you can do:
look at your account,
update billing details,
access any invoice generated,
look at other membership levels: in the future more categories of videos may be added to different membership levels,/li>
cancel your membership. Cancellation means that your membership will terminate at your next renewal date. Please feel free to continue watching the videos until that date.
log out